Certified as the first Japan Heritage.

Place of purification of the six roots of perception and
healing of the six senses
Japan Heritage Logo
Visit Japan's most dangerous national treasure,

Mt. Mitoku,

and


Misasa Onsen

, one of the world's finest Radon springs


Mt. Mitoku is a place that people visit for training to purify the six roots of perception.

Misasa Onsen is a place people visit to heal the six senses by bathing in hot springs.

The deep relationship between Mt. Mitoku and Misasa Onsen was a reason for their selection among the first round of Japan Heritage sites in 2015.

A deep and profound tale links Mt. Mitoku and Misasa Onsen.
Tottori

Mt. Mitoku / Misasa Onsen

Misasa, located in Tottori Prefecture, is actually surprisingly close and convenient.
Experience Japan Heritage
The six roots of perception and the healing of the six senses are a distinctly
Japanese perspective on nature -- a harmonizing of human beings and their natural surroundings
Mt. Mitoku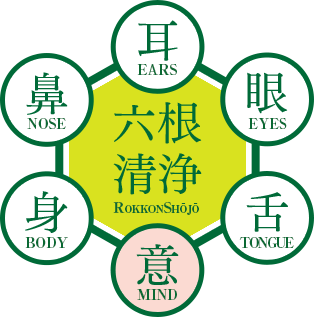 Purification of the Six Roots of Perception
Ears:

Calm your heart with the sound of the bells and the chanting of sutras as you travel along the path.

Eyes:

The overwhelming presence of the national treasure Nageiredo. Buildings integrated into the virgin natural forest. Various treasures, the most spectacular of which is the Zaogongen statue.

Tongue:

Reexamine the significance of consuming another life as you taste vegetarian cuisine. Experience the richness of the food culture as you try the home-grown mountain vegetables, tochimochi, and tofu.

Body:

Experience a pleasant fatigue after walking up to the temple.

Nose:

Calm your heart with the smell of incense and rhododendrons.

Mind:

Purify your heart by visiting Nageiredo, the final destination of the training.
Misasa Onsen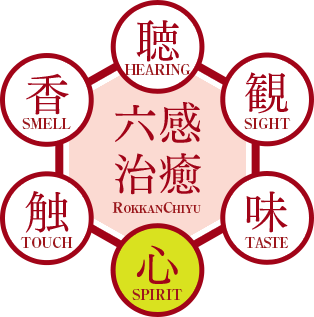 Healing of the Six Senses
Hearing:

The soothing sound of the mountain stream and wooden shoes.

Sight:

The Showa Era ambience of the townscape and the registered tangible cultural properties.
Relive your childhood with the Jinsho tug-of-war.

Taste:

Experience the richness of food culture by eating local foods, such as mountain vegetables, tochimochi, and aged sake.

Touch:

Onsen therapy and experience Showa culture.

Smell:

Heal your heart with the scent of the water as you take a bath.

Spirit:

Refresh body and spirit with a modern hot spring cure.
Visit famous hot springs and experience shugendo.
Purification of the six roots of perception begins with a bath at Misasa Onsen to purify the body and ready the spirit for the climb up Mt. Mitoku the next day. At Misasa Onsen, relaxing and soothing oneself in the hot waters heals the six senses: sight, hearing, smell, taste, touch, and spirit. On Mt. Mitoku, harsh training on the sacred mountain purifies the six roots of perception: the eyes, ears, nose, tongue, body, and mind.
The six roots of perception and the healing of the six senses are a distinctly Japanese perspective on nature -- a harmonizing of human beings and their natural surroundings